We welcomed back Mr. Huegel this month to Willow Grove Elementary School. If you don't know who he is, ask your kids. He is AWESOME! Consider him to be part music teacher and part rockstar. He had the Grizzlies singing their hearts out within a week.
WGEF is happy to sponsor 30 weeks of music curriculum this year with Mr. Huegel and Recreational Music Center. His instruction will include beat, rhythm, glee, dance, music history, and instrument families. As a bonus he will teach a guitar unit to 5th graders this year.
We at Willow Grove are fortunate to have this specialized music instruction provided exclusively by the Willow Grove Educational Foundation through donors generous support. We are on a mission to raise $100K in 90 days to help fund our budget priorities for 2018-2019, including music. Can we count on you?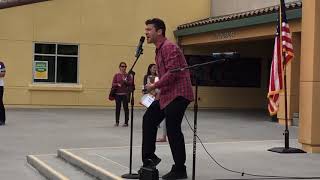 Thanks to the Grizzly Growth Fund, we are fortunate to have weekly Music instruction for all of our students!
We would like to thank all of this families who have donated to our Grizzly Growth Fund in 2018-2019. We would like to extend a special thanks to the following families for their capital contributions of $350 or more in the month of October:
The Ostrow Family 2018
The Hartman Family
The Cuaresma Family
The Kirby Family
Rustin and Raya Tehranchi
The Link Family + Corporate Match
The Marzullo Family
The Levanthal Family
The Patay Family
The Drykerman Family
The Veracco Family
The Gatlin Family
Nishant and Devyani Mittal + Corporate Match
The Riedl Family
The Waiss Family
Qing Tian
Vipin Sali + Corporate Match
Anjana Lalla
The Warren Family + Corporate Match
The Ulrich Family
The Carroll Family
The Liang Family
The Ginsburg Family
The Chu Family + Corporate Match
The Pae Family
Dental Design SD
The Godinez Family + Corporate Match.